Our Servces
Design, Materials, and Packages
Cougar Creek Timber Frame
Design and Materials Services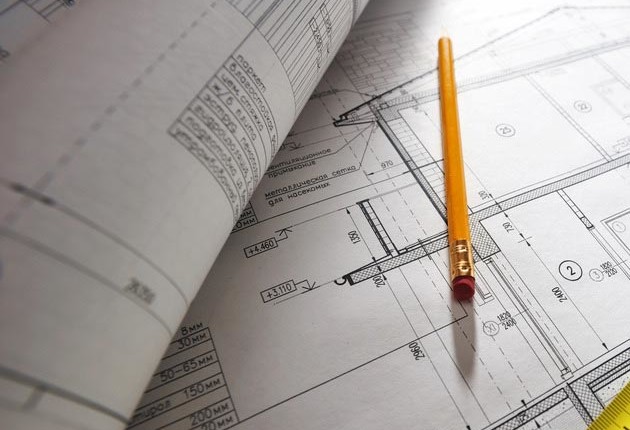 Cougar Creek is your reliable expert for all design services. Let us take you through our process to make your home vision into a reality.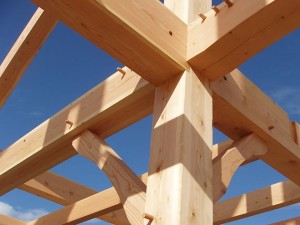 We use the highest quality Douglas Fir timbers. Our experts will walk you through the different wood and home design options for your land and budget.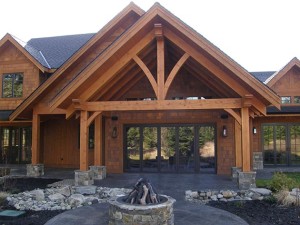 See our standard packages and services.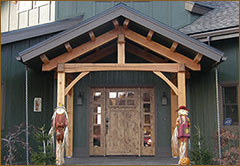 This growing young family wanted a timber frame home to accommodate the children's rooms and play area on the top floor including space over the garage. The entrance into the property was perfect for an angled front door entry lending choices to all other areas in the home.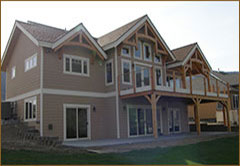 This home is located on the Columbia River, and find it very interesting how many people that view our photo albums know exactly where this house as it so stands out as a timber frame home from across the river. We encourage people to come see us in the beautiful valley if they can and have hands on in our working in a 3-D modeling of their home.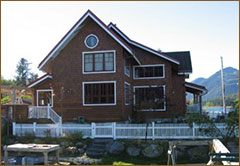 A young family from Petersburg, Alaska with three children visited the Seattle Home Show to select a timber frame company and we were so excited to work with them. As always, we like to visit the site, so flight tickets and a B&B and we were on our way to develop this beautiful full timber frame from a book of pictures and listening to their ideas. At the end of the week, the frame was up and all the wall panels for 3500 square feet of house plus two car garage.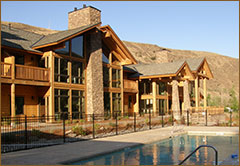 Look at this size of this truss as one of our company owners is 5'4″ tall. This project was developed with Western Building and Design and the GC MF Williams Company and the owners. The main lodge hall is a statement.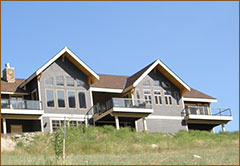 After many hours sitting at Blueberry Hills discussing what was most important, our clients came up with a WANT LIST. Great room with views up and down Lake, separate dining room with covered outdoor grilling area, and a Man Room and more.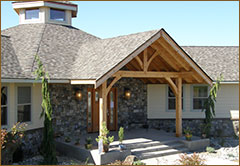 What a challenging and spectacular great room. The Commanding view of the Yakima River Canyon and the territory is awesome. The result is statement of beauty. Even the floor tile are cut in a hexagon pattern.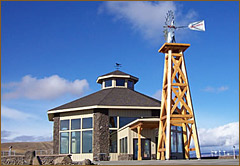 Our Company was thrilled to be a team member working with Puget Sound Energy to create a timber frame visitors view center near Vantage, WA. The structural insulated panels to enclose the timber frame will save 50% to 60% in heating and cooling costs.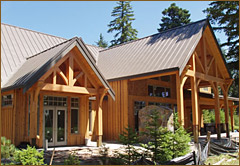 "Suncadia is a comprehensively planned residential resort community designed to strike a balance between man and nature, modern life and posterity. Ultimately, the 6,000 acres of Suncadia will contain a collection of distinct neighborhoods, each with its own character reflective of its unique setting, and open spaces will be protected by the Suncadia Conservancy" Suncadia, Inc.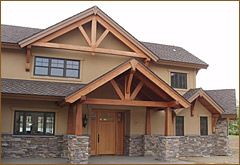 A home for an executive and his family to entertain on Lake Entiat was designed around a big kitchen opened to indoor or outdoor seating with angled walls to capture the lake views.  Other considerations were outdoor living with or without shade to enjoy the peace of the water and exterior truss.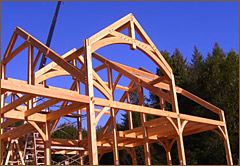 After a long winding road the 53 foot truck located the jobsite in Southern Oregon where the boom truck was waiting to unload.  This beautiful frame was erected in two days thrilling the owners viewing their dream of the "ART WORK" in the bents.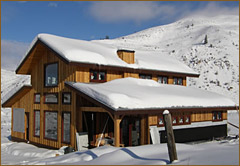 A perfect medium size home for a young family with three children.  The home was designed to accommodate a young family that would soon grow up and move on leaving a perfect home for two.  Areas were designed to accommodate these changes to fit changes in family needs with spectacular mountain & river views.
This home was born out of ideas to create a resort in the mountains to admire in the retirement years.  Hammer beams were designed to create large expansions in great room with window wall to open up the high mountain wall and man-made lake.  Beautiful rock fireplace to showcase the timbers staircase to enter the second floor.
Don Carlson
 President email: don@cougarcreektf.com
 cell: 509-860-1610 Cristy Carlson Director of Design email: cristy@cougarcreektf.com
 cell: 509-679-8514
COUGAR CREEK TIMBER FRAME LLC